The following is guest article written by Mercedes Carr:
You have finally put the past behind you and left that abusive relationship. You're taking the time to rediscover yourself, reunite with old friends, deepen your relationship with God, and allow him to heal your wounds. You feel like you may actually be able to have a beautiful life despite the pain of your past.  Everything is going well and then all of a sudden, a conversation that penetrates the walls of protection that you've built around your heart comes crashing in on you like a ton of bricks.  
You're not ready to trust again and it isn't fair that people would expect you to. After all, consider what you have been through. The thought of a close friendship or relationship sends you cycling back into old patterns of unworthiness and self-sabotage. Your counselor says it is time to open yourself up to create better relationships but how can you trust again? What does it look like to build healthy relationships when all you've ever known has been stripped from you?
Holocaust survivor Corrie Ten Boom speaks a vital truth when she says "Never be afraid to trust an unknown future to a known God."  Oftentimes domestic violence can leave the survivor feeling inadequate and unprepared to navigate any type of relationship. The blessing is that even when we don't know our future, God's track record is consistent. God desires for you to not only live again, love again, and hope again, but to also trust again. Even better, He will help you along your journey back to trusting again.  
When Trusting Again Feels Impossible
"I don't feel like I have the strength to ever trust again" is one of the most common things that I hear as a Domestic Violence Advocate when working with survivors over the past 6 years. Many survivors find a level of autonomy and independence that they cannot risk being stripped from them again by trusting another person. Our life experiences have the ability to not only affect how we view people but how we rely on God.  
Our Ability to Trust God and Trust Others Can Be Shaped By:
Our childhood upbringing 
Our perception of God as a friend, provider, and Father
Our ability to safely rely on our parents 
Our history with previous relationships/friendships  
Past betrayals/deceptions
Unmet expectations/miscommunications
My Personal Journey
I was brought up in a family where my Grandfather was a Pastor, my Father was a preacher, my uncle played the keyboard, and my grandmother sang in the church choir. We prioritized going to church every Sunday, paying our tithes, and treating people right but somehow in our small congregation everyone seemed to have missed or ignored the abuse that was going on right under our noses, within our own family. My Father dealt with some abusive tendencies that were not secret yet it was never enough to be sat down or questioned regarding his own need for healing or deliverance.  This is a common tactic that takes place in churches all over the world, where leaders believe that they can live within the confines of "Hear no evil, see no evil, speak no evil," despite how morally wrong and heartbreaking domestic abuse is to God. It urged me to question whether or not family and the Church was truly a safe place.  
As I navigated through college as a Nursing major God quickly changed my trajectory and pulled me in the direction of Social Work. It was in my Sophomore year during a domestic violence course that I learned that the abuse and dysfunction my family endured was not normal. There was no spiritual way to dismiss the narcissistic abuse, financial bondage, or extreme isolation that my Mother had endured. As a child I never really understood why my Mother could not have friends. She was never told she wasn't allowed, she was just urged to believe that Women of God who are married don't go on trips and shouldn't have fun. It didn't seem like the biggest deal in the world then but now I know the impact of isolation, gaslighting, manipulation, and emotional abuse. 
Looking back, I can acknowledge that these years of abuse had a deep lasting effect on the way that my mother navigated relationships and the way I understood how they work. It impacted the dynamics of trust that should be present in a healthy relationship. Women who endure domestic violence don't just lose a piece of themselves in these unhealthy relationships but they lose the communion, fellowship, and intimacy that comes with being able to have confidence in your ability to trust someone. This is why God gives us the ability to trust Him and allow every other relationship to align with that blueprint. I often like to ask the women I minister to this question:
"How would a life of fully trusting and relying on God change your current reality?"
The truth is most of our realities would be much different if we took the chance on trusting God. We might have written that book, started that business, or launched out in that new relationship by now. We live in a society where we are taught not to trust, not to rely on others, and to avoid showing vulnerability. The culture around us fosters an environment where it is more acceptable to be fearful, anxious, and apprehensive of healthy relationships than to embrace them. This is only enhanced when we are exposed to abusive relationships that strip away our human nature to depend on others. I believe that there is a place that we can come into where we fully surrender in our relationship with God and the trust we have in Him will help us walk in truth and authenticity in every other relationship.  
Trusting God Is a Divine Invitation
Proverbs 3:5-6 says "Trust in the LORD with all your heart, And lean not on your own understanding; In all your ways acknowledge Him, And He shall direct your paths."
You may not be fully ready to trust the people in your life but trusting God is a beautiful place to start. Trusting in God is an opportunity that He extends to each of us. It is a divine invitation to lay down our understanding and acknowledge Him even in the most broken parts of our lives. This level of vulnerability and honesty with God will literally bring direction for every other relationship. 
I believe that God calls us to trust Him with the entirety of our hearts because if we cannot trust or rely on Him who is perfect, then we will never know what it is like to have the fulfillment of trustworthy relationships with others. When we acknowledge God in all of our ways we are recognizing the importance of Him being the root and the anchor of our trust. From that place we allow Him to direct and lead us in every area of our life including our relationships. When allowing God to heal you and opening yourself back up to the possibility of friendships and new relationships we must acknowledge what trust is not.
Trust is not:
Neglecting boundaries and giving everyone complete access to all of our life 
A lack of guarding our heart 
Accepting habitual offenses with no change 
Moving forward despite trust violations with no real accountability 
Reliance on man 
We may need to move on from a relationship if:
If the relationship is emotionally, mentally, or physically abusive
If there are habitual offenses of betrayal and broken trust 
If the person refuses to acknowledge the issue, change, or work towards reconciliation
If God gives you the instruction and clarity to release and let go of the relationship
Learning to Trust Is a Vital Part of Healing
Learning to trust again is a vital part of the healing process. When we forgive and allow God to assign our relationships it does not mean that we will not be hurt or let down, however, it will not break or define our trust or value system because our trust was not solely in that person in the first place, it was in God.
A Few Ways to Build Your Trust With God and People:
 Ask God to direct you in inviting healthy relationships into your life for the season you are in.
Practicing healthy boundaries and learning to trust again must be done in a safe place for the best outcome.  

Allowing God to bring these relationships will help ensure that you are building with people who have a heart for you and a desire to foster a community of love and growth.
Pray and ask God to help you uncover root issues where you need to heal from past hurts, wounds, and areas where your trust was broken. 
Pay attention to triggers and old emotions that arise when challenges show up in relationships. 
Choose to forgive offenses and evaluate what direction the relationship should go in from that point.
Create healthy and realistic boundaries.  
Remember that even the healthiest relationships are not built for you to put all of your faith and reliance in; only God can fulfill all our needs. 
Ask God to help you create a healthy balance and interdependency with people where you are not making them your everything but allowing them to play the role that God ordained for your life. 
More About the Author
Mercedes Carr is a Graduate at Ball State University who earned her degree in Social Work with a minor in Counseling Psychology.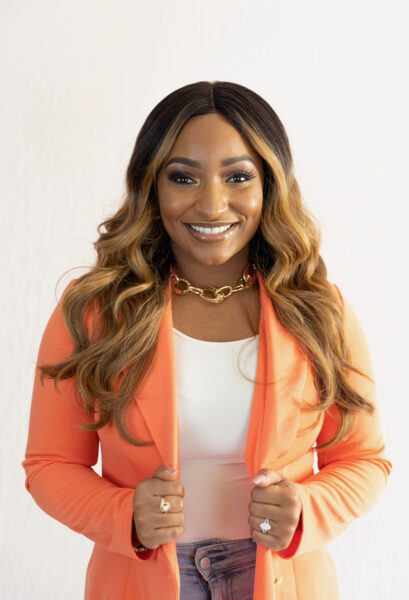 Mercedes has spent the past six years mentoring and working with college aged women and adolescents on life skills, conflict resolution skills, goal management skills, and relationship building, and destiny alignment. In her personal career, Mercedes mentors, nurture, and advocate for survivors of Domestic violence.  She trains and coaches them in goal management, emotional wellness, life skills, healthy relationship skills, and family development skills, while also leading support groups in these areas. Mercedes is a certified Call Handler on the National Suicide Hotline for those who are depressed, suicidal, and emotionally distressed. Through these experiences, she has developed a strong passion for leadership development, health and wellness, and coaching women to walk in the fullness of who they were created to be.
Mercedes recently earned her Life Coaching Certification through Breakthrough Coaching and Leadership Academy. She is also a licensed minister who founded Be Thou Made Whole Women's Fellowship and Crowned By Virtue Life Coaching Services. She is a prophetic evangelist and justice advocate who is serious about delivering, healing, and saving souls, while assisting people and communities with successful destiny attainment. You can connect with Mercedes on Facebook, instagram, or through www.kingdomshifters.com.