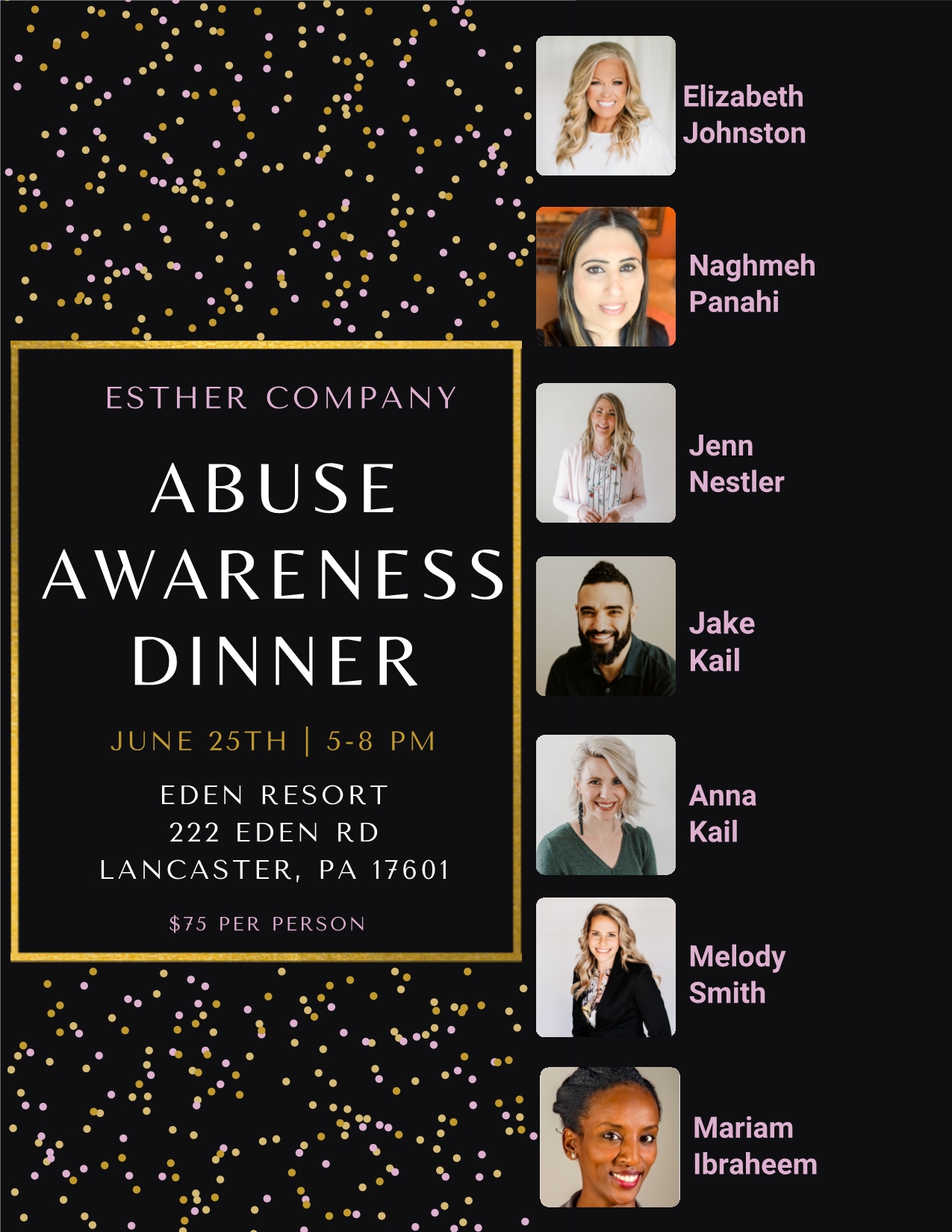 Esther Company Abuse Awareness Dinner
You Are Invited!
You are cordially invited to join us at The Eden Resort in Lancaster, PA on Saturday, June 25thfrom 5:00 pm – 8:00 pm for a night of food, fun, and fellowship, as we share real stories, encouragement, and release God's heart of justice for His daughters. The goal of this dinner is to raise awareness about the hidden abuse epidemic in the Church, as well as support to continue building and expanding our initiatives to tangibly empower women seeking freedom from abuse. 
This dinner is for all believers, pastors, ministry leaders, or anyone who has a heart to learn more about covert abuse.
Event Details
I'm thrilled to announce that we will have special guest speakers, Elizabeth Johnston and Naghmeh Panahi with us, each bringing a powerful message that sheds light on hidden abuse. I will also be sharing more about the heart of Esther Company and a short empowering message.
We will have a Q&A time to conclude the dinner. Elizabeth and Naghmeh will join us as well as other special guests, Melody Smith and Mariam Ibraheem, along with Jake and Anna Kail and myself.
Esther Company Abuse Awareness Dinner
Where:       The Eden Resort & Suites, 222 Eden Rd, Lancaster, PA 17601
When:        Saturday, June 25th
Time:         5:00 pm – 8:00 pm
Cost:           $75 per person 
Dress:          Black Tie Optional
To RSVP:    Click here to register   RSVP deadline is June 10th. Seating is limited. 
Sponsors:   If you would like to sponsor a full table that seats 8, please email Bethany at admin@Esther-Company.com.
Childcare:  Childcare is not provided. Nursing mothers are welcome to bring their infants.