There can often be a skewed concept of what abuse is. A commonly held belief is that women will always know they are in abusive relationships. But with psychological abuse, that is often not the case. While physical abuse is obvious, psychological abuse is very hidden and wrapped in much confusion. Not only are women often grappling for years to understand why their marriage is so painful but pastors and leaders can be left to sort through a confusing relational maze if they are not equipped to understand and recognize what covert psychological abuse looks like.
That is why Esther Company's vision is to see a world where abuse cannot hide and operate within church walls and for every woman bound by abuse be awakened, educated, delivered, healed and living empowered lives full of freedom! In light of this vision, I am excited to announce that we will be hosting our first ever Esther Company Abuse Awareness Dinner!
You Are Invited!
You are cordially invited to join us at The Eden Resort in Lancaster, PA on Saturday, June 25thfrom 5:00 pm – 8:00 pm for a night of food, fun, and fellowship, as we share real stories, encouragement, and release God's heart of justice for His daughters. The goal of this dinner is to raise awareness about the hidden abuse epidemic in the Church, as well as support to continue building and expanding our initiatives to tangibly empower women seeking freedom from abuse. 
This dinner is for all believers, pastors, ministry leaders, or anyone who has a heart to learn more about covert abuse.
Event Details
I'm thrilled to announce that we will have special guest speakers, Elizabeth Johnston and Naghmeh Panahi with us, each bringing a powerful message that sheds light on hidden abuse. I will also be sharing more about the heart of Esther Company and a short empowering message.
We will have a Q&A time to conclude the dinner. Elizabeth and Naghmeh will join us as well as other special guests, Melody Smith and Mariam Ibraheem, along with Jake and Anna Kail and myself.
Esther Company Abuse Awareness Dinner
Where:       The Eden Resort & Suites, 222 Eden Rd, Lancaster, PA 17601
When:        Saturday, June 25th
Time:         5:00 pm – 8:00 pm
Cost:           $75 per person 
Dress:          Black Tie Optional
To RSVP:    Click here to register
Sponsors:   If you would like to sponsor a full table that seats 8, please email Bethany at admin@Esther-Company.com.
Childcare:  Childcare is not provided. Nursing mothers are welcome to bring their infants.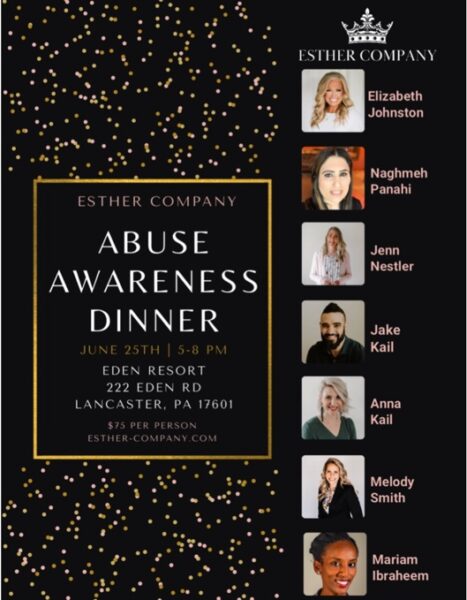 We are excited about what God has in store and would be honored to have you join us!
Will You Stand with Us Against Abuse?
The tide is turning. God is shining a light on injustice and abuse. What has been hidden behind the walls of the church and inside many homes is being exposed because of God's great love and mercy. Truth bearers, who walk in purity and with the fear of the Lord are being positioned to carry out God's heart of justice. Called, anointed, and set apart ones marching with the cadence of Heaven. With reformation in their heart and keys of wisdom in their mouth, they are poised to release solutions to injustice and abuse in the Earth.
If you would still like to stand with us to turning the tide of injustice but are unable to attend this event, you can sow into the mission and vision of Esther Company by clicking here to donate. All donations are tax deductible.